Organic cut-out vase
This narrow top vase has leaf shaped cut-outs at the top which allows plenty of room for water/fresh flowers. Rich neutral tones of a rustic brown with over-lay of soft beige. Approx 7" tall
Mini stacking bowls
These handy mini stacking bowls are extremely versatile in the kitchen. These three are rich in earth tones of red/brown/beige. Sold as a set
Earthy flared bowl
A rustic multi-functional bowl, rich in earth tones of brown/red and overlay of soft beige. Deep enough for a hearty helping of your favorite soup. Approx 6" w x 4"h
Rustic dual-dip bowl
This adorable double dip bowl has a rustic feel with tones of red/brown and beige. Diameter of each bowl is approx 3.5"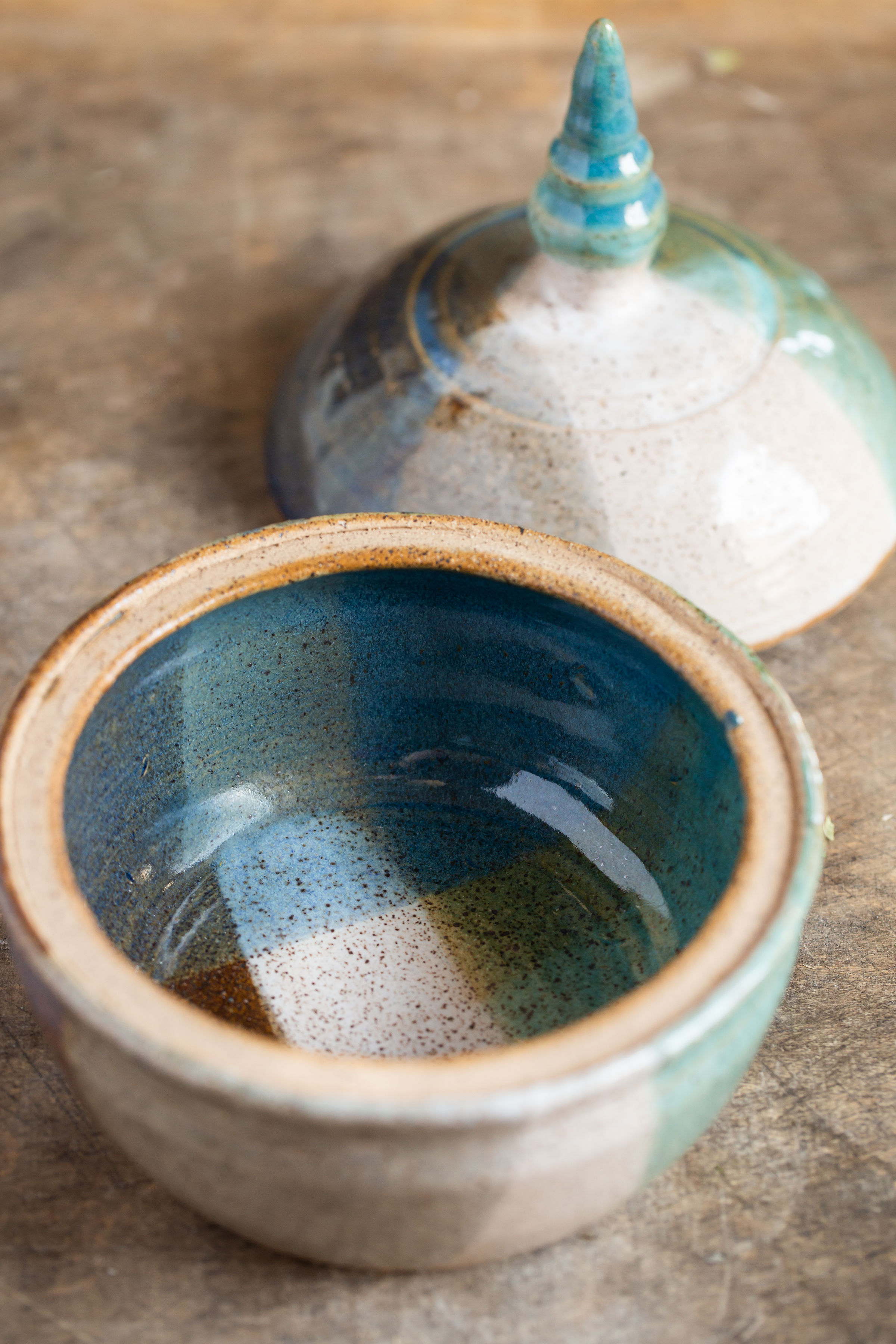 Casserole with dome lid
This tri-colored casserole is compact and multi-functional as a server. Safe for oven use. Approx 8" diameter.
Casserole with dome lid
Another view of the casserole piece with lid on
Classic chip and dip bowl
This serving piece is rich in earth tones with a splash of purple; great for veggies or chips with your favorite dip; approx 12"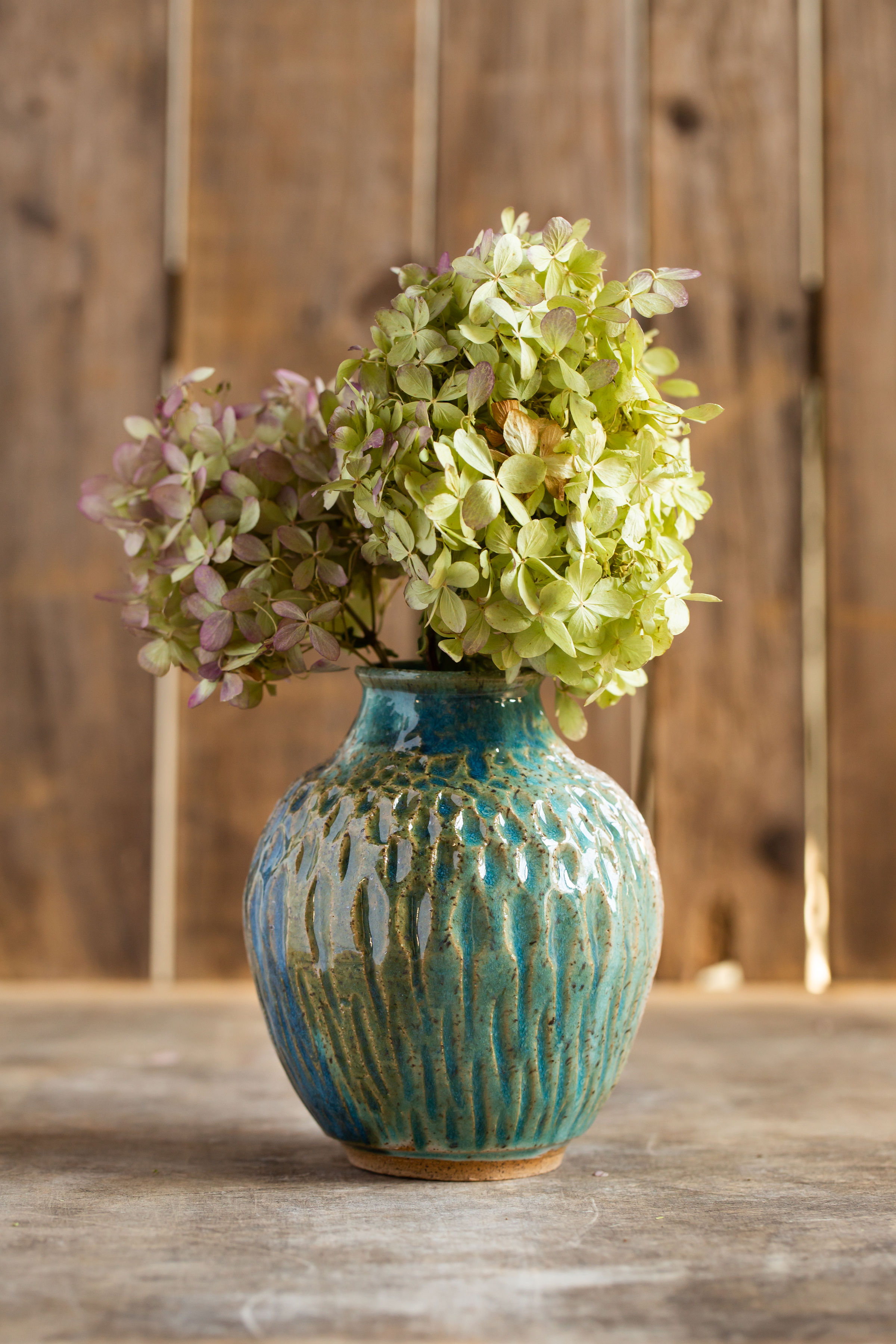 Lively, textured vase
A tri-color combination of turquoise, white and indigo blue with hand carvings to enhance the pigments; Approx 7" tall
Tri color, textured Utensil holder
A wide-mouth utensil holder or vase is textured with linear shapes and a criss-cross, tri-color of white, turquoise and indigo blue. Approx 10" H x 5"W
Textured blue/brown vase
This vase is textured randomly on top and bottom with floral carvings around the center; a rich color combination of indigo blue and brown
Bark imprinted serving dish
A tri-color of turquoise, white and indigo blue accent this bark imprinted, multi-functional serving dish. Approx 8" H x 5"W x 3" H.
Garlic holder with lid
A wide mouth, tri-colored garlic holder, wide enough to fill with many cloves. Combination of turquoise, white and deep blue; stands approx 8" H x 6" W
Small leaf dish
This tricolor leaf, embossed with a natural leaf and adorned by one chickadee is multi-functional. Use as a soap dish/ spoon rest/candy dish. Approx 6" L x 4"W
Leaf server
This lovely server was embossed with a natural leaf and adorned with handmade chickadees. White and turqoise. Approx 12" L x 10" W
Small patterned decorative accent
Lovely tri- color pieces with a variety of imprinted patterns. Multi-functional uses for soap, jewelry, candles, sweets, etc. Ranging from 6" to 3". Sold individually or as a set
Sugar and creamer
A turquoise/white matching sugar and creamer; just the right size and perfect for your table setting. Approx 4" tall. Sold as a set
Textured wall sconce
Multi colored, hand carved wall sconce to house your fresh or dried flowers. There is a mounting hole. Blue, turquoise, green and beige abound. Approx 6" H x 4" W
Tall garlic holder with dome lid
A blend of turquoise and purple adorn this garlic holder w/dome lid to house your many cloves. Approx 8" H x 4" W.
Earth tone planter
8" planter with drainage holes
Colored clay vase
A combination of soft blue and violet clay with clear glaze finish
Lilypad server
This lilypad server is adorned with colorful roses and bluebirds. You can find if for sale at the York Art Association in York, ME. $55.00
Chickadee candle holder
Now available for sale at York Art Association
Utensil holder/Vase
Two toned (sage/mint) 7" wheel thrown vase with coiled rim; SOLD; custom order available
Textured chimenea
Available for purchase at York Art Association
Hand carved vase
Hand carvings of birds on branches on this 5" wheel thrown vase; turquoise; NFS; custom orders available
Small set of stacking bowls
Blue bird sugar bowl
Lilly pad platter w dove birds
Imprinted cheese board w handle
Dove Birds on a leaf
Pressed with a natural leaf, this lavender server adorned with dove birds can be found for sale at Just Us Chickens, Kittery, ME $32.00
Cardinals adorning a leaf
Imprinted ring/jewelry dish
textured sugar and creamer
Genie bottle.
Hand carved and textured with removable top; bud vase or olive oil decanter. Can be found for sale at York Art Association $
Tall turquoise /beige mugs